About the SMF2 hack Super Mario Bros. 2 Flash click here.
Super Mario Bros. 2 Flash is a Super Mario Bros. 2 themed hack made by Mitja in 2015, along with many other hacks such as Snow Edition.
Versions
Main information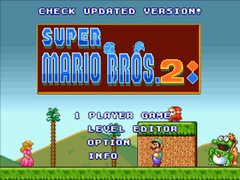 There are two available versions of this hack. The old one was added by Brendan during the creation of Level Palace. The newest version was released by Mitja in 2017 and it's available in his/her website only. There are many differences between both versions, however, no one of both them is so popular due to lack of players.
| Differences | Old version | New version |
| --- | --- | --- |
| Version of SMF | 2.1 | 7.2 |
| One chosen player | Mario | Peach |
| New backgrounds | 6/6 | 19/28 |
| Sounds | 11 | 19 |
| Variety of materials | Low | High |
Themes
Old version
New version
Update History
2015: official release
2017: update to Ver.E