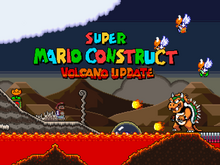 Please note that updates aren't scheduled for specific dates and that SMC is not taking any new suggestions as of now.
Super Mario Construct is an HTML5 Mario editor made by Luigibonus (sprites by Nintendo, AmazingAlien, Tristaph, Nitrogamer, SuperMakerPlayer and Smuglutena.). It is intended to be a successor of Super Mario Flash 2 and all other SMF games, as Adobe Flash will be discontinued in December 2020. The name Super Mario Construct was chosen because of the ability to create (construct) Mario levels, to immediately show that the game includes a Level Editor, and that the game is being developed in the HTML5 game making engine, Construct 3.
The game is currently on a live version (v4.3.0 Volcano Update - August 8, 2020) located on Level Palace, but there are also beta releases for future updates accessible with this link (dated).
The game includes a various amount of Mario moves, including the spinjump, swimming, sliding and various other ones which are unlocked by power-ups. Also, you can change your controls in the game under the settings menu or the pause menu.
The level editor contains a bunch of elements you can use, the levels you make with them can be shared on level palace (accounts are free). Keeping track of progress can be done by joining the discord server (link below) and viewing several external sources. (which can be found in the discord server)
For the guide, FaQ and Changelogs maintained by The Flying Dutchman, click this link, it holds a ton of information which could clear up several of your questions about Super Mario Construct. More up to date... you can also find the live update schedule of SMC here.
SMC also has an official discord server you can join by clicking here.
Community content is available under
CC-BY-SA
unless otherwise noted.