Super Mario Flash 2: Jungle Edition is a hack running SMF2 Ver.C (38) and developed and updated by Luigibonus.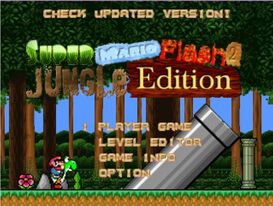 Overview
The edition, despite being themed around jungles, has lots of themes that are related to the jungle one way or another, causing there to be plenty of themes to work with in Jungle Edition. For example, aside from multiple jungle themes, there are also temples, rainy hills, various caves, and of course, you can also add your own custom backgrounds too.
This edition is mainly theme based, meaning it focuses on swapping themes, and the enemies are kept unchanged (except for the Bullet Bill, that has been changed to a Bullet Bee).
Update History
Launch (May 7th, 2016)
The launch of the edition (1.0). This is when the edition still ran on the now very old 2.1
Update 1.1 (May 31st, 2016)
The hack got ported over to Ver.C (Build 36), and included various new tilesets, as well as all of the content Ver.C had to offer at the time.
Update 1.2 (July 10th, 2016)
General improvements to the hack to enhance the user experience, as well as an upgrade to Ver.C 38.
Update 1.3 (August 6th, 2016)
General improvements to the hack to enhance the user experience