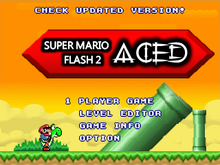 SMF2 Aced is a hack made by BrokenAce, and is sarcastically claimed to be one of the best hacks in existence, only second to Crash Bandicoot Edition. It mixes clashing sprites like Pokemans, demon Marios and lots of tiles from pre-rendered 3D Mario games (particularly the NSMB series, not so much DKC).
Music List
8- Haruhi Suzumiya Ending Meme Song
11- P-Switch, Super Mario World
12- Goal, Superr M aro World
13- End of Worrld, Super Mario World
14- Death, Super Mario World
15- Boss, Pokemn Mystery Dungeon
16- Some Mario map theme
Community content is available under
CC-BY-SA
unless otherwise noted.